Artificial Intelligence (AI) Development Services
Custom AI solutions to improve and grow your business.
What is Artificial Intelligence?
Artificial intelligence (AI) is the science of making intelligent machines and systems which are programmed to think like humans, mimic their actions and perform human tasks. In business, AI manifests in several forms and is commonly used to increase business efficiency and productivity and streamline workflows.
Today's most successful enterprises use this kind of technology to significantly improve their operations and create unique customer experiences.
AI Subsets
Machine Learning
Is a subset of AI. Machine Learning includes algorithms which are used to analyze data, learn from the data and finally build a system which makes predictions and take informed decisions without being explicitly programmed to do so.
Deep Learning
Deep learning is a subset of machine learning. Deep learning involves algorithms that analyze data with a logical structure similar to the process a human brain would draw conclusions. The logical way that the algorithms are structured is commonly known as artificial neural network.
Our Services
Interview
Working closely with you to understand your needs and expectations. In addition, we identify problems, find solutions and together we set goals.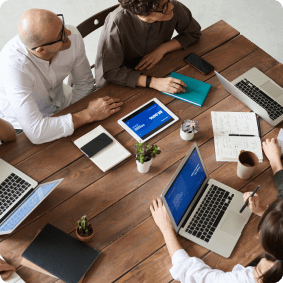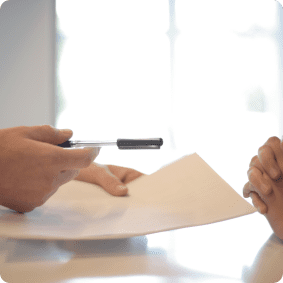 Planning
Moving to the second step, our data specialists analyze all the necessary info we gathered. Afterwards, we share with you our suggestions based on your company's and your customer's needs. We choose the solution that meets your needs and we remain by your side till we have the expected outcome.
Model Development
Our specialists work together to find the best solution based on your business data. This way, they build algorithms that accomplish the expected result. During this step, we keep you up-to-date by holding meetings with you, so you can review the progress that we have made.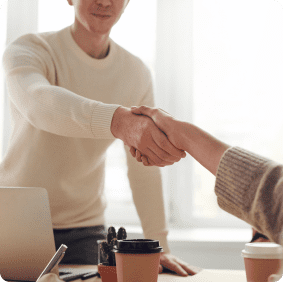 Delivery & Support
It's time to deliver the final product, but the journey is not over yet. We keep working with you closely to identify problems and make the required changes. We are always by your side to support you.
AI Benefits
Process Automation
Using AI machines and systems, organizations can optimize processes, and complete tasks automatically without the need of human intervention.
Personalization
AI improves the customer experience, creating personalization. Organizations use the data they collect to provide unique experiences tailored to everyone's needs.
Reduced Human Error
Artificial Intelligence can significantly reduce the frequency of errors as it makes decisions based on the available data only, and not based on emotions and opinions as human beings do.
Increased Productivity
AI means automation and automation equals productivity. Employees have more time to use their talents and focus on tasks that require their intervention, so they can move the business needle.
Greater Business Insights
One of the greatest benefits of using AI technologies is the access to useful insights from massive datasets. Using these insights, your company can make intelligent business decisions while ensuring that its competitive position remains strong.
Improved Recruitment Process
AI is drastically helping companies improve and automate the recruitment process. AI screens the ideal candidates without bias while rejecting those that don't meet the company's needs. This way, organizations can save time and money.
Who can Benefit?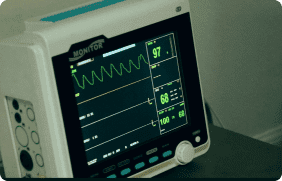 Healthcare
AI seems to be a game-changer for this specific sector. It allows doctors and medical staff to provide better healthcare to the patients, with speed and accuracy. Diagnosing pathology is only the beginning of predictive healthcare.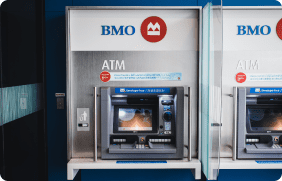 Finance
The finance sector is about data and accuracy, which makes AI a perfect match for these jobs. AI uses, machine learning, and automation in financial processes have already formed the future of AI in the finance industry.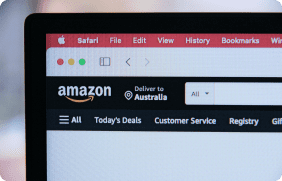 Customer Experience
Chatbots and customer helplines are just a sample of AI uses that we daily meet in customer service. In addition, Amazon has shown everyone how to use AI efficiently in recommendation engines to personalize the customers' experience.
Automotive
Tesla's self-driving cars are the most common example of AI use in transportation. Autonomous driving is a reality that will develop further in the following years.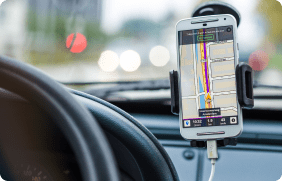 Transportation
Google maps and their ability to show drivers real-time traffic conditions and which route to follow is a well-known achievement of AI use in this sector.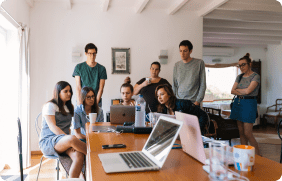 Education
AI has the power to streamline the educational process by creating personalized learning experiences and improving communication with teachers.
CONTACT US