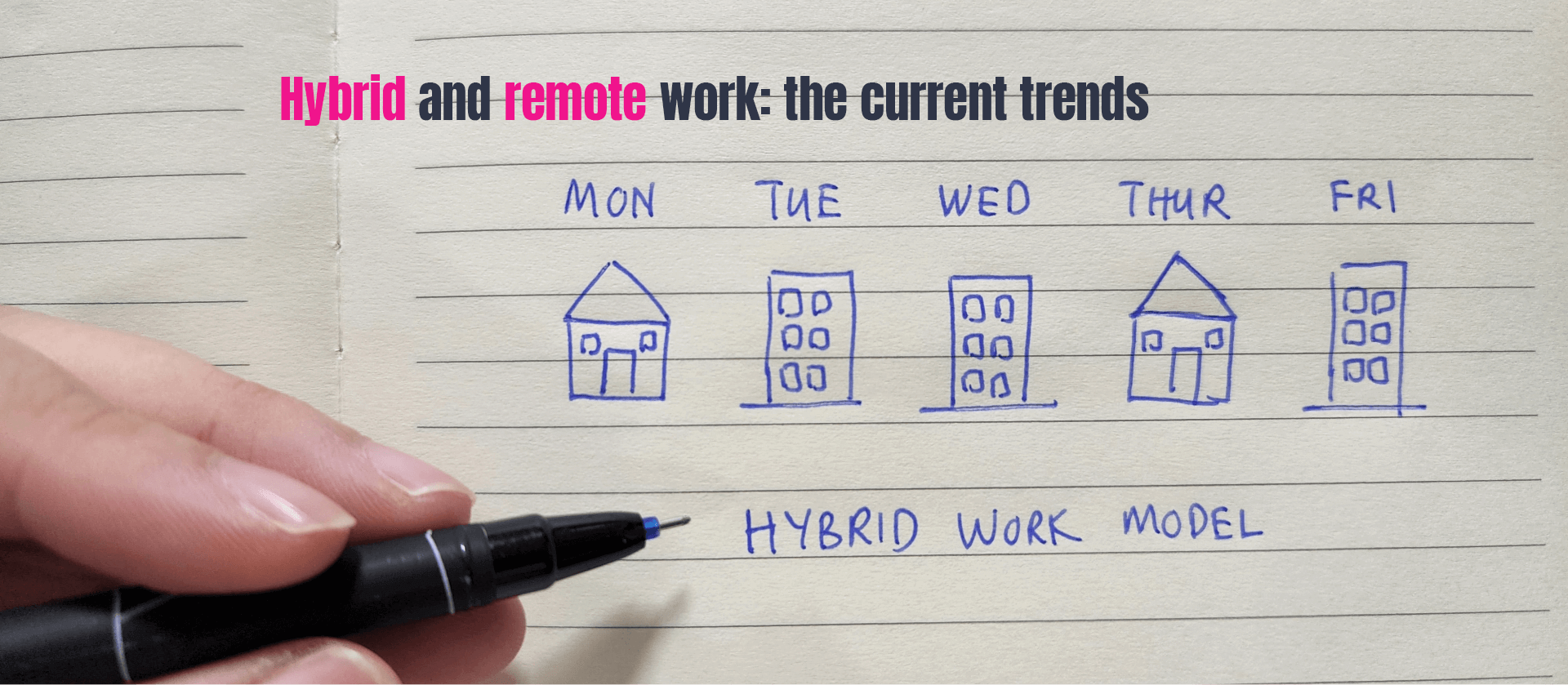 October 2023
Hybrid and remote work: the current trends
INTRODUCTION
During the covid pandemic we have seen the emergence of remote working. Many employees in a variety of sectors started working from home and most saw this as an opportunity to improve their work-life balance while still producing at the highest possible level. Although covid-related restrictions have been largely removed from our daily lives, the new work model (remote or hybrid) is here to stay. Let's have a look at the evidence from this new approach to work and explore what are the current trends and what the future holds.
REMOTE WORKING STATISTICS
According to 2023's statistics, remote work environments, like hybrid work models, are becoming standard in work culture. In particular:

Another very interesting figure is that the vast majority of workers (98% according to Buffer) express the desire to work remotely for part of their working hours in order to claim flexibility, autonomy and work-life balance.
PIONEERING COUNTRIES
The growth of remote working has been undeniable in recent years, with some countries standing out for it. More specifically, according to Jobgether:
The Netherlands has a 65% adoption rate of remote working. Advanced infrastructure, digital connectivity and proactive government policies have provided the opportunity for this way of working to be smoothly assimilated.
Furthermore, Luxembourg follows closely behind, with 54.4% of its workforce having adopted, even partially, this way of working, as their commitment to development and innovation has helped them to succeed in adopting this model.
In addition, Sweden, which is traditionally a supporter of work-life balance and progressive work policies, follows in this embracement of remote working, with 51,8% of the working population being engaged in remote work, at some extent.
This is the result of the country's emphasis on the autonomy and freedom of its workers so that they can work in a comfortable environment.
REMOTE WORKING BY DISCIPLINE
There is evidence that some fields are leading the way in remote working. This is because of the conditions in which they work and the equipment they need. This includes fields like Software development, Marketing, Customer Service, Sales and Data entry. More specifically:
Software development: Many software developers have the opportunity to work remotely due to the nature of their work and because there is a high demand for them. They are usually given this opportunity because they do not necessarily have to be in the office to work with their colleagues.
Marketing: These professionals can work remotely as well since they're running tasks like social media, creating content and running various advertising campaigns.
Customer service: The representatives of this field can also work remotely, because they can communicate with their clients via phone, email and chat. This helps the companies to save costs such as office space and they can also hire employees from all over the world.
Sales: Sales representatives can also work remotely by using video conferencing and phone calls to meet their clients. If there is a stable internet connection, this field can work from anywhere and give them a competitive advantage by reaching a wider audience.
Data entry: It is usual that this kind of work can be done online. This happens because most of the tasks include entering data to spreadsheets, databases, and other electronic systems.
REMOTE WORKING BY SECTOR
These are the industries that FlexJobs says you should keep an eye on for remote work in 2023.
Computer & IT
Marketing
Accounting & Finance
Project Management
Medical & Health
HR & Recruiting
Customer Service
TRENDS IN GREECE
A new normal is emerging in the Greek periphery, where the hybrid work model is in high demand, with 90% of existing workers, most of them young, seeking telecommuting as a very important factor in their choice of job, according to Economy Employment. More specifically, Greek companies are slowly starting to prepare for this change, with 55% of them being aware that more than half of their employees' duties can be performed remotely, according to a survey by the Hellenic Federation of Enterprises. In addition, 41% of them have already provided training in the use of digital media and other communication tools, and 70% of companies already know that remote working will have a major impact on attracting staff.
THE GREAT RESHUFFLE
According to LinkedIn we're witnessing the great reshuffle meaning that we change:
The way we work through remote and hybrid work that empower a workforce on the move.
Our roles exploring new fields and disciplines.
The reason we work feeling empowered to pursue things like work-life balance and belonging.
Remote and hybrid work play a vital role in these emerging trends and all data indicate that these two work models will be shaping the future of work globally. Not only does the technology and infrastructure permit this shift, but also most job roles can implement various -if not all- of their tasks remotely. Most importantly, studies have revealed that hybrid and remote work models have been proved cost-effective and are beneficial for employee retention, corporate culture and productivity.